G20-E Professional Ozone Generator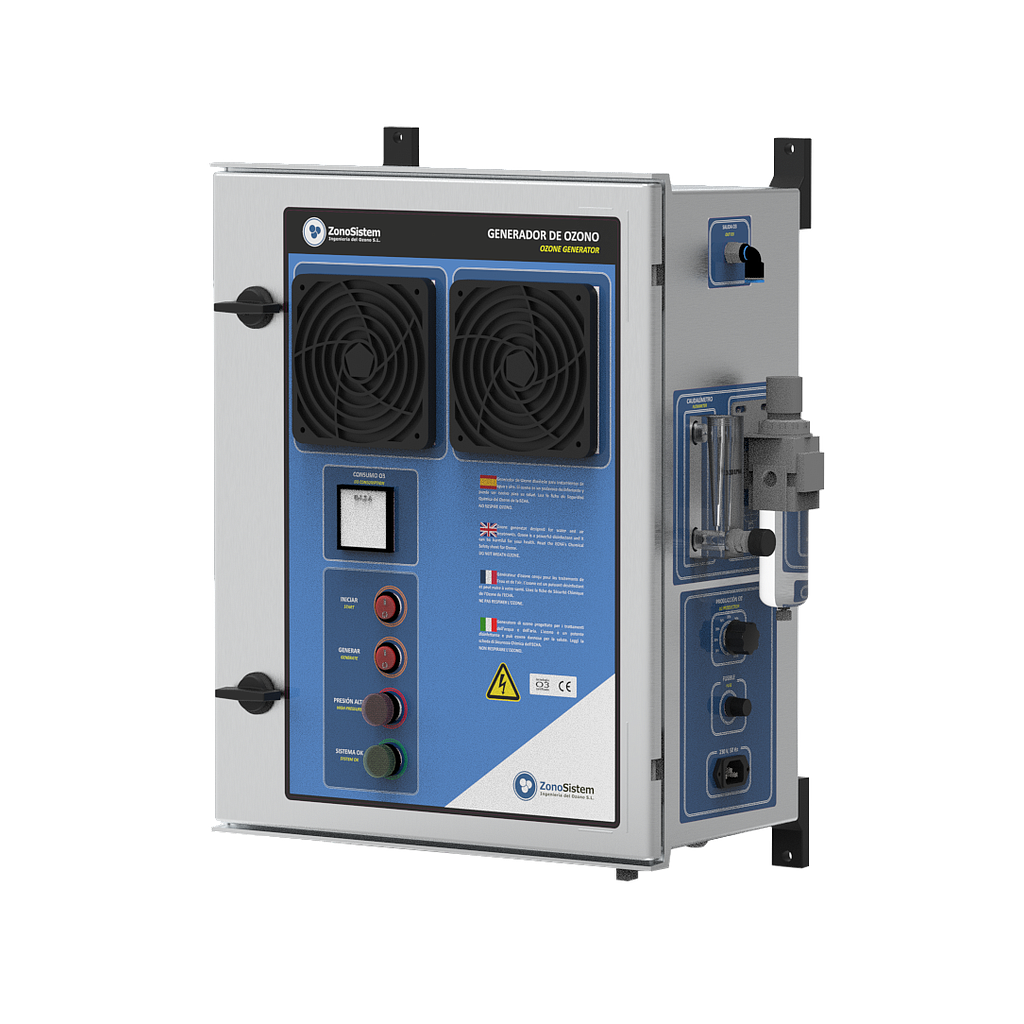 ---
---
Internal Reference:
FABGAMAG.0010
G20-E Professional Ozone Generator
Professional Ozone Generator, which works from compressed oxygen bottle or PSA oxygen concentrator. Ozone production of 20 gO3/h, at a concentration of 90 g/Nm3. 230V, 50-60Hz, 200W.
This ozone generator is air-cooled. Works from compressed oxygen bottle or PSA oxygen concentrator. It has an air inlet filter and a pressure regulator, manual control using an ON/OFF switch a power manual control potentiometer. With power indicator light and ozone amp consumption indicator. With input and output wall bushings: 8mm tube. Ready to plug and play.
2 years warranty (expandable if you have a maintenance contract)
Manufacturing in 30-40 days
Professional Ozone Generator
Technical specifications 

What is it used for?
This ozone generator is used for water treatment in aquariums and fish farms that work with protein skimmers in Venturi aspiration. Also used in the laboratory, for ozone treatments from air or oxygen and water treatments from atomizers. 



Product Details
What´s included

| | |
| --- | --- |
| Ozone Generation system | A 20 gO3/h Module with borosilicate dielectric. air cooled |
| Compressed air unit | The equipment does not include compressors. The oxygen is provided by the client. |
| Oxygen concentrator | Oxygen must be supplied by the customer, from a bottle or PSA. The kit does not include PSA. |
| Control | Ignition with manual START and GENERATE switch. Regulation of the ozone power, by means of a manual potentiometer. |
| Sensors | Amps in Ozone and Oxygen Pressure. |
| Technical Valves | Oxygen inlet pressure reducer and electrovalve, Ozone outlet electrovalve and oxygen flowmeter with manual regulation |
| Included in the packaging | 4 m of 8 mm Teflon tube + fixing earmuffs + power cable + user manual |
Technical features

Ozone Production

Dry Air = 10 gO3/h
Oxygen = 20 gO3/h

Ozone concentration

Dry Air = 3 gO3/m3
Oxygen = 90 gO3/m3

Air flow

Dry Air = 50 lpm
Oxygen = 4lpm

Power supply

230V, 50-60Hz

Electric Power

200 W

Gas connection

Inlet and Outlet to Tube 8 mm outer diameter

Dimensions

400 x 220 x 500 mm (Width x Depth x Height)

Packed size

510 x 700 x 450 mm (Width x Depth x Height)

Weight

22 Kg
Working Conditions

| | |
| --- | --- |
| Gas quality | 95-99% oxygen purity, drying at -10ºC Dew Point. |
| Source gas | The team needs a supply of bottled oxygen or PSA. |
| Humidity | <90% |
| Room temperature | 5-40ºC |
| Working pressure | 0-0,4 bar |
Room fittings
Locate in a clean and dry space, free of grease and smoke.
Additional Information

| | |
| --- | --- |
| Made by | ZonoSistem |
| Made in | Spain |
| Sold from | 2015 |
| Last revision | 2021 |
| Certificates | CE, BIOCIDA PT2, PT4, PT5, PT11 |
| Warranty | 2 years extendable indefinitely, with maintenance contract |
| UFI number | G000-W09P-Y00M-TV8V |
Functioning
This G-E range ozone generator, when it receives a start command, opens the oxygen inlet electrovalve, whose pressure is regulated with the reducer hand. The oxygen from the bottle is conducted to the generation core, where the corona discharge is applied and the oxygen is transformed into ozone. With the oxygen flow meter you can regulate the desired flow.

Included documentation
Safety manual.


User manual, installation and commissioning.


Maintenance manual.


Declaration of Conformity.


Certificate of guarantee


Compliance with biocidal regulations.


Our Quality Test results.

Technology
This ozone generator uses high frequency corona discharge technology with ceramic dielectric.


We comply with biocidal regulations and ISO certificates.